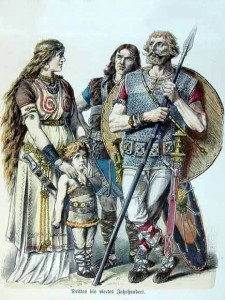 …as seen by the Romans.
A post not about an event or a story, this time, but a fascinating description.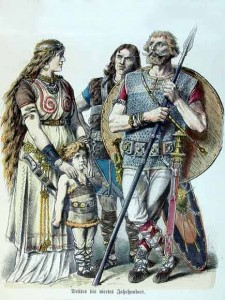 They choose their kings by birth, their generals for merit. These kings have not unlimited or arbitrary power, and the generals do more by example than by authority. If they are energetic, if they are conspicuous, if they fight in the front, they lead because they are admired. But to reprimand, to imprison, even to flog, is permitted to the priests alone, and that not as a punishment, or at the general's bidding, but, as it were, by the mandate of the god whom they believe to inspire the warrior. They also carry with them into battle certain figures and images taken from their sacred groves. And what most stimulates their courage is, that their squadrons or battalions, instead of being formed by chance or by a fortuitous gathering, are composed of families and clans. Close by them, too, are those dearest to them, so that they hear the shrieks of women, the cries of infants. They are to every man the most sacred witnesses of his bravery-they are his most generous applauders. The soldier brings his wounds to mother and wife, who shrink not from counting or even demanding them and who administer food and encouragement to the combatants.
Tradition says that armies already wavering and giving way have been rallied by women who, with earnest entreaties and bosoms laid bare, have vividly represented the horrors of captivity, which the Germans fear with such extreme dread on behalf of their women, that the strongest tie by which a state can be bound is the being required to give, among the number of hostages, maidens of noble birth. They even believe that the sex has a certain sanctity and prescience, and they do not despise their counsels, or make light of their answers. In Vespasian's days we saw Veleda, long regarded by many as a divinity. In former times, too, they venerated Aurinia, and many other women, but not with servile flatteries, or with sham deification.1
1Tacitus, The Agricola and Germania, A. J. Church and W. J. Brodribb, trans., (London: Macmillan, 1877), pp. 87ff